The CWBA believes declared pests can be better managed by working together as a community in conjunction with industry and government.
The CWBA is a recognised biosecurity group (RBGs) and has a key role in assisting landholders to control declared pests in the area of management. This area is currently defined, as Koorda, Perenjori, and Dalwallinu and Morawa which encompasses a full area of 21,901 square kilometres.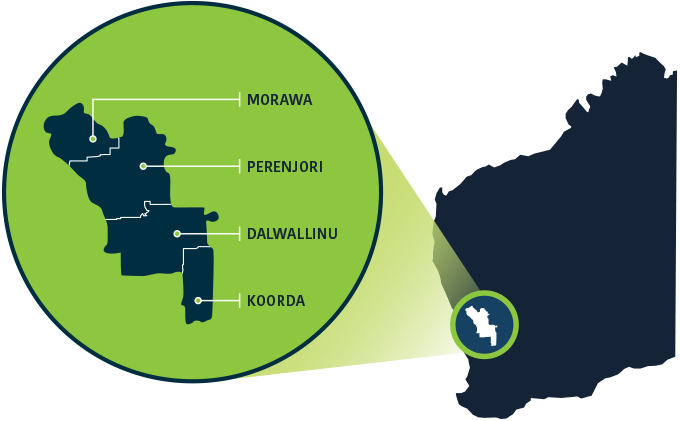 Shires
The designated area of the Central Wheatbelt Biosecurity Association is the Shires of Dalwallinu, Koorda, Morawa and Perenjori. This region is a total of 2,167,744ha. The State Barrier Fence runs along the regions eastern boundary through all four Shires. The key industry in all four Shires is agriculture focusing on grain (wheat, barley, canola and pulses) and sheep production. All shires strive to have a high standard of living, promotes business growth and nurture agriculture in balance with the environment.
Current Wild Dog Data for CWBA Region
Report Stock Attack or Wild Dog Sighting
To ensure coordinated control across our region, it is important that any stock attacks and wild dog sightings are reported.
Please contact us at:
Russell Macpherson
CWBA Dogger Coordinator
0428 641 067
miljanna.grazing@gmail.com
Or submit your report online:
2021 Aerial Baiting Progam for Wild Dog Control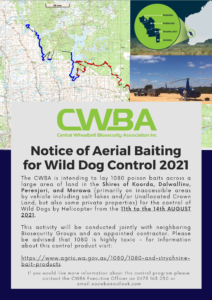 The CWBA is intending to lay 1080 poison baits across a large area of land in the Shires of Koorda, Dalwallinu, Perenjori, and Morawa (primarily on inaccessible areas by vehicle including salt lakes and/or Unallocated Crown Land, but also some private properties) for the control of Wild Dogs by Helicopter from the 11th to the 14th AUGUST 2021.
This activity will be conducted jointly with neighboring Biosecurity Groups and an appointed contractor. Please be advised that 1080 is highly toxic – for information about this control product visit:
https://www.agric.wa.gov.au/1080/1080-and-strychnine-bait-products 
If you would like more information about this control program please contact the CWBA Executive Officer on 0473 163 050 or email eocwba@outlook.com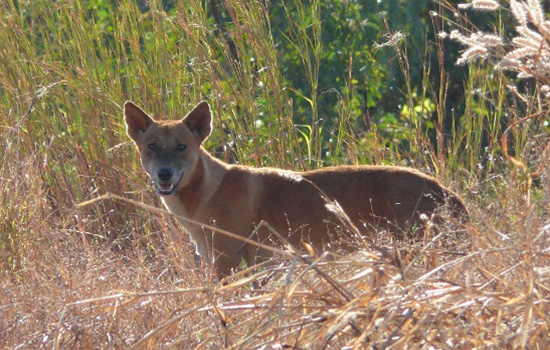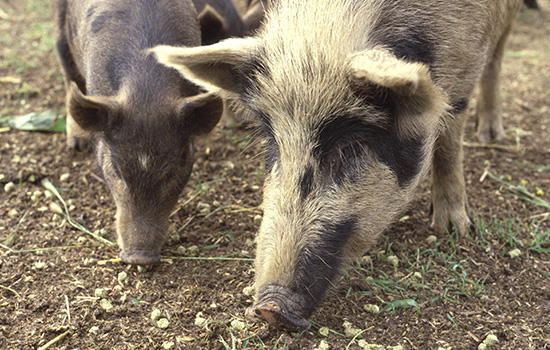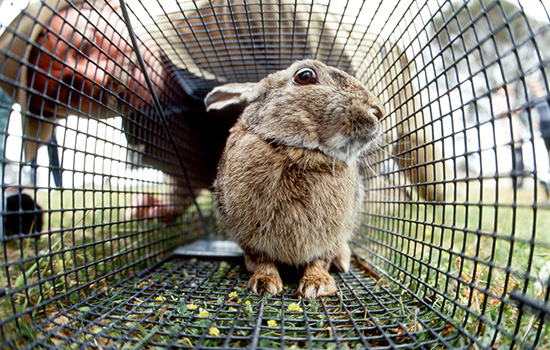 Keep up to date
Joining our mailing list is a great way to keep up to date with what CWBA is doing. We will send you our e-newsletter and occasional communications regarding biosecurity and pest information, activities or events.